Nalgene Oasis Sustain 32 oz Canteen


The coolest canteen in camp. This 32oz canteen is made with Nalgene's leakproof narrow mouth closure and fits in standard canteen holders. Sustain bottles are made with material derived from 50% plastic waste. Each bottle is created from resin powered by next generation recycling technology that transforms plastic destined for landfills into high-performance bottles. 
Made in the USA
BPA free
Dishwasher safe
Specs:

Thirty-two ounces of Hydration in an easy to hold configuration
38mm Narrow Mouth closure, just like our Narrow Mouth bottles
Guaranteed Leakproof.
Dishwasher safe, but make sure the closure does not touch the heating elemement
Made from Eastman Tritan, an extremely impact-resistant material that does not retain tastes, odors or stains
Bottle is 8 ½" high by 4 7/8" x 3 1/8"
Lightweight at 130g
Nalgene Oasis Sustain 1qt Canteen Bottle - (Blue)
SKU:
Nalgene Oasis Sustain 1qt Canteen Bottle - (Coyote)
SKU: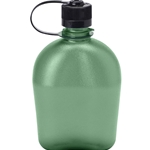 Nalgene Oasis Sustain 1qt Canteen Bottle - (Foliage)
SKU:
Nalgene Oasis Sustain 1qt Canteen Bottle - (Gray)
SKU: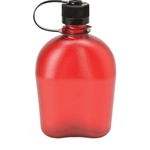 Nalgene Oasis Sustain 1qt Canteen Bottle - (Red)
SKU:
---